On October 23, 2023, the Biden-Harris Administration announced the designation of 31 communities across the country as Regional Innovation and Technology Hubs (Tech Hubs) through the Department of Commerce Economic Development Administration (EDA). The Tech Hubs program is an economic development initiative that is designed to stimulate regional innovation and job creation by making direct investments in high-potential regions. The goal is to heighten their global competitiveness as innovation centers. 
This announcement only marks the first phase of the Tech Hubs program. In this stage, chosen winners prevailed from nearly 400 applications, each detailing their strategic plans to enhance local capacity for critical technology manufacturing, commercialization, and deployment. In the next phase, the EDA will award implementation grants to 5-10 Designated Tech Hubs. Each Hub will receive approximately $40-$70 million funding for about 3-8 projects. Additionally, EDA also awarded 29 strategy development grants to regional consortia to further develop their innovation-based economic development plans.  
The program aims to foster collaboration between a wide range of public, private, and academic partners, focusing on driving inclusive regional growth. While currently only 31 Tech Hubs are designated, it is anticipated that the program's benefits will significantly influence economic growth nationwide.  
This article aims to provide a comprehensive overview of the selection of the 31 Tech Hubs across America and its potential impact on economic development. 
What Are Tech Hubs?
Tech Hubs, also known as technology or innovation hubs, are geographic areas distinguished by a robust presence of technology-driven innovation, entrepreneurship, and collaboration. Typically, these hubs are characterized by a high concentration of tech companies, startups, research institutions, and skilled talent.  They are known for fostering an environment where innovation and creativity thrive, enabling the development and dissemination of cutting-edge technologies, often providing various resources such as co-working spaces, incubators, accelerators, and access to venture capital, creating a supportive infrastructure for tech-based initiatives.  
Tech Hubs offer substantial benefits to their host communities. They generate economic growth by creating jobs, attracting investments, and bolstering property values. Additionally, they stimulate technological advancements, enhancing the region's competitiveness and significance on the global stage, hence serving as critical drivers of progress in our digital era. 
Biden-Harris Administration Designations of the 31 Tech Hubs Across America
When a region is designated as a Tech Hub, it essentially receives a strong endorsement for its strategy to foster a technology ecosystem and become a global leader within the coming decade.  
The 31 designated Tech Hubs spearhead a diverse array of pioneering industries and technologies. All of which highlight how the Biden Harris Administration is investing in innovation and economic growth in every region of the United States. The respective focus areas of the various Tech Hubs include the following: 
Safe and Effective Autonomous Systems
Maintaining Our Quantum Edge
Advancing Biotechnology: Drugs and Devices
Advancing Biotechnology: Precision and Prediction
Accelerating Our Energy Transition
Strengthening Our Critical Minerals Supply Chain
Regaining Leadership in Semiconductor Manufacturing
Growing the Future of Materials Manufacturing
Further Support for Tech Hubs: Economic Development Administration Strategy Development Grants
The Economic Development Administration (EDA) also awarded 29 Strategy Development Grants (SDG) to help communities significantly increase local coordination and planning activities.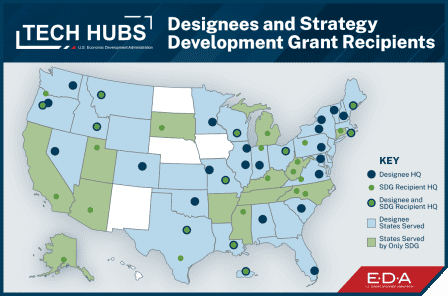 SDGs enable communities to foster innovation and further develop their technology-based regional economic development strategy. According to the EDA, such development could make selected grantees more competitive for future Tech Hubs funding opportunities. 
Eleven of the 31 Designated Tech Hubs received SDGs, and 18 other regions received SDGs to further mature their plans and achieve Designation in the future. 
Catalyst for Investment: Tech Hubs and Economic Development
The Tech Hubs initiative aims to stimulate economic development, driving innovation, generating employment, and inviting investment in key sectors. Although the program specifically targets the 31 selected tech hubs, its impact is expected to ripple across the nation, fostering economic expansion and attracting investment countrywide. By nurturing a fair, balanced, and robust economic environment, this initiative strives to bolster the nation's economic security while enhancing its competitive edge in the global market. Here's how the Tech Hubs program spurs economic development:   
Innovation:
By defining specific regions as epicenters of excellence in emerging tech sectors, the Tech Hubs program propels innovation. Offering platforms for businesses, research organizations, and entrepreneurs to collaborate and exchange ideas, these hubs act as hotbeds for creativity. By championing cutting-edge technology and providing resources and support for research, the program catalyzes the emergence of novel products, services, and technologies, fostering breakthroughs in emerging fields and keeping the United States at the helm of global innovation. 
Private Sector Investment:
The initiative enhances regional appeal for private sector investors by identifying these hubs as innovation centers in critical industries. Hubs that offer advanced research opportunities and collaborative potentials draw companies looking to invest in or associate with emerging technologies and markets. The incentives and financial support available through public-private partnerships and grants within the Tech Hubs program further kindle private sector involvement in research and job creation. 
Supply Chain Resilience:
The Tech Hubs initiative boosts supply chain resilience by underpinning the growth and evolution of vital technologies and sectors. By consolidating supply chains locally, the program reduces dependence on external sources and minimizes the national economy's exposure to global disruptions, thus bolstering economic stability and national security. 
Job Creation:
The Tech Hubs program aims to foster job creation through its emphasis on innovation and investment in critical industries. By identifying these hubs as centers of excellence, the program draws investments from the private sector. This, in turn, fosters the growth and expansion of businesses within these regions. As these businesses thrive, demand for a skilled workforce increase, creating a wave of job opportunities. Furthermore, Tech Hubs frequently partner with local universities and workforce development organizations, which ensures a steady flow of equipped talent for emerging technologies and industries.  
Regional Development:
The program targets diverse communities, thus decentralizing economic growth that is often concentrated within major cities. This approach promotes a balanced growth distribution among various communities by acknowledging their unique strengths and potential. 
Competitiveness:
The Tech Hubs program encourages innovation and healthy competition within critical industries and emerging technologies, thereby solidifying the United States' standings within global markets. 
Sustainability and Resilience:
The Tech Hubs program aims to foster sustainability and resilience by promoting innovation in fields like clean energy, sustainable materials, and climate resilience. By advancing sustainable practices and climate resilience, the program contributes to a more environmentally conscious and economically secure future, positioning the United States as a leader in addressing pressing global challenges. Economic development that aligns with sustainability can provide long-term benefits by reducing environmental impact and creating opportunities in emerging markets. 
Attracting Foreign Investment:
Finally, the designation of Tech Hubs as innovation centers in vital industries augments their international visibility and credibility. Foreign investors are more likely to consider regions with a strong focus on cutting-edge technologies and innovation as attractive investment destinations. Additionally, the partnerships and collaborations facilitated by Tech Hubs often involve international stakeholders, making it easier for foreign investors to connect with local businesses and entrepreneurs. This, coupled with the initiative's focus on supply chain resilience and sustainability, makes these regions attractive to foreign investors eyeing eco-friendly and resilient technologies.  
A Bright Outlook: Tech Hubs Spurring Economic Development
The establishment of 31 Tech Hubs signals a crucial move towards invigorating economic growth in the United States. Recognizing these hubs as centers of excellence, each focused on vital sectors, the program is primed to fuel innovation, draw private sector investment, and generate a multitude of job opportunities within diverse communities. 
The Tech Hubs program does more than elevate the United States' position in the global innovation race. It also enhances the nation's economic security and resilience amidst a rapidly transforming global landscape. This visionary initiative holds the key to unlocking regional potential nationwide, paving the way for a brighter, balanced, and thriving economic future for all.