It is no secret that the COVID-19 Pandemic completely changed the way we work. With stay at home orders being issued worldwide in March 2020, non-essential employees were forced to work from home, a new normal many were not ready for.
Remote collaboration software became essential to businesses and their productivity, and tech companies fought to have their application become the digital headquarters of remote work. So how did Slack, an independent messaging service, surpass the popularity of applications like Microsoft Teams and Google Hangouts?
It's simple, they made using the platform fun.
What is Slack?
Slack was first launched publicly in 2013, as a messaging service designed for the workplace. The platform focused on transforming workplace communication, it was marketed as being different to any other platform.  
Slack wanted to provide an alternative to typical workplace communication done via email. While email was obviously not broken, Slack saw it as limited. They wanted to create a messaging platform that would offer all the things email lacked, transparency, flexibility, collaboration, security, integration, and automation.  
Email had a sense of formality around it, with unnecessary greetings and repetitive signoffs, employee inboxes were always flooded with internal communications, workplace updates, and never-ending reply-alls. Slack offered a solution to this, it offered quick and flexible communication that allowed teams to stay connected and collaborate easier. 
It uses channel-based messaging to organize information by subject. The platform uses two forms of messaging, channels, for group messaging, and direct messages for private messaging. Slack is also able to seamlessly integrate with over 2,000 popular workplace applications. It is designed to keep all information on the same platform to make working easier. 
Image 1: An overview of Slack 
Slack's growth in COVID
Even prior to 2020, Slack was transforming workplace communication, it was known for its unique design, with 10 million users active on the platform in 2019. In the two weeks following the announcement of the COVID-19 pandemic by the World Health Organization Slack's user base grew by 25%, with tweets from Slack CEO Stewart Butterfield stating that the platform had reached over 12 million users. Slack stock rose by 15% the same day the tweets were shared. 
In the first year of the pandemic (March 2020 to April 2021), Slack saw a 43% increase in revenue, totaling $902 million, and their net loss also decreased from $567 million to $292 million in that same period. 
As of the end of 2020, rumors swirled that Salesforce, a big business software company, was going to buy the platform for $27.7 billion. The acquisition was formally announced in July 2021 on Slack's website.  
The Slack platform became a household name in 2020, with companies worldwide using it for their everyday work-from-home needs. It was used by millions of people daily, and the majority loved using it.  
What made Slack so popular?
Remote work was new to most employees, it was something that came with unique challenges. Companies struggled to keep their teams productive, aligned and engaged. This is where Slack was able to stand out compared to other digital workplace software.
According to the platform's website, teams that use Slack are 49% more productive than those that use other software such as Microsoft Teams or Google Hangouts. Slack users are less likely to suffer from common focus and communication challenges that come with remote work.  
Figure 1: Slack vs. Non-Slack users on workplace challenges 
Not only did Slack improve productivity amongst its users, but it also provided a sense of workplace community that was missing. The platform provided collaboration tools that significantly improved the sense of community and belonging while bring absent from the office.  
Figure 2: Slack vs. Non-Slack users who say working from home improved their sense of belonging
 
Slack was unique in the sense that it did not feel like typical office software, it was created to be less formal and more personal. Slack was fun to use.  Slack feels more like social media than email, it makes workplace communication feel like a group chat with friends. It created a space for office culture to thrive, despite the physical office being closed. Group channels could be created by anyone and could be about anything. Inside jokes could circulate in the office, friendships could be made, and the personalities of employees could be displayed like never before possible.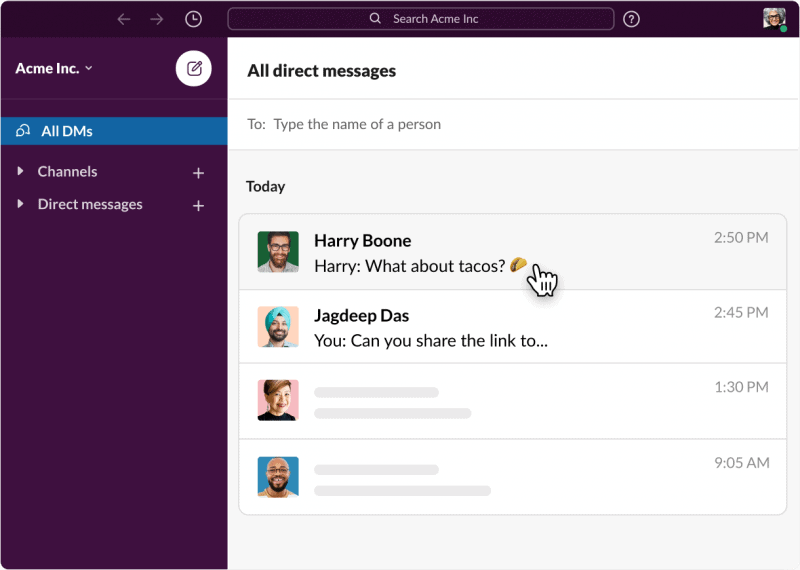 Image 2: Slack direct messaging
 
Employees valued the informalness of Slack, the casual chats and expressive emojis that mimic human conversation were able to illustrate tone and self-expression. Slack also took away the pressures of email etiquette, there was no longer a need for overused fake pleasantries or unnecessary sign-offs. It made communication less stressful.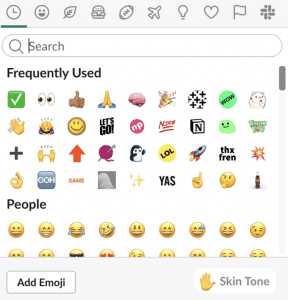 Image 3: Emoji keyboard on Slack 
The software itself is appealing to users. The color scheme is youthful with an animated cartoon robot that appears when you download the platform to show you around. The platform has a bubbly personality that feels upbeat and encourages others to highlight theirs as well. Not only does slack support GIFs and emojis, but it encourages users to use them to provide quick communication and affirmations to teammates.  
Slack was built for a new generation of the workforce – one that values self-expression and meaningful connections over strict professionalism and outdated office norms. It provided an endless scroll, like that of social media- full of office jokes, emoji reactions, and personality.  
The reason Slack was able to surpass other popular software and become the digital headquarters throughout the COVID-19 pandemic is simple; it was the only platform to convince employees it was cool and encourage them to make meaningful connections while working remotely.